Traversées Transmanche
Brittany Ferries et les vélomobiles

Brittany Ferries and velomobiles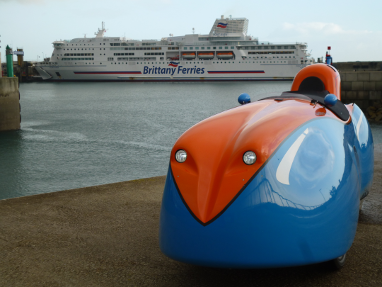 L'an passé (2ème trimestre 2016), nous avons été informés par nos amis Anglais que la compagnie maritime Brittany Ferries appliquait une surtaxe aux vélomobiles.
Nous avons donc questionné cette compagnie pour connaître exactement les conditions appliquées.
Et voici le courrier de réponse:
Last year (2nd quarter 2016), we were informed by our English friends that the shipping company Brittany Ferries applied a surcharge to velomobiles.
So we asked this company to know exactly what the conditions were.
And here is the reply letter:

Bonjour ,
Nous accusons réception de votre courriel et nous vous en remercions.
Suite à votre demande, nous nous sommes rapprochés de nos collègues anglais.
Les tarifs des véhicules sont basés sur leurs dimensions en raison de l'espace limité dans les garages sur nos navires.
Pour faciliter la réservation, nous standardisons les types de véhicules dans des catégories telles que : voiture, van, vélo, moto, camping-cars… avec une sélection de dimensions par type de véhicule.
Le tarif appliqué à votre potentielle réservation est celui de la même catégorie qu'une moto en raison des dimensions, et ceci en France comme en Grande-Bretagne.
Restant à votre disposition.
Bien cordialement,
Hello ,
We acknowledge receipt of your email and we thank you.
Following your request, we got closer to our English colleagues.
Vehicle tariffs are based on their dimensions because of the limited space in the garages on our ships.
To facilitate the booking, we standardize the types of vehicles in categories such as: car, van, bicycle, motorbike, motorhome ... with a selection of dimensions by vehicle type.
The price applied to your potential booking is the same as a motorcycle because of the dimensions, in France as in Great Britain.
Staying at your disposal.
Best regards,
Anaïs Bonello
Conseillère Service Relations Clients

Voilà qui a le mérite d'être clair, un calcul rapide permet d'estimer cette surtaxe à 150€ pour un aller/retour transmanche.
This has the merit of being clear, a quick calculation makes it possible to estimate this surtax to 150€ for a round-trip cross-Channel.
Cette surtaxe n'est pas appliquée par les autres compagnies transmanche (Stenalines, PO Ferries, DFDS, Color Line) qui considèrent le vélomobile comme ce qu'il est, un vélo au sens de l'article R311-1 du code de la route, un cycle est un véhicule à deux roues au moins, propulsé uniquement par l'énergie musculaire de ses passagers au moyen de pédales ou de manivelles.
This surcharge is not applied by the other cross-Channel companies (Stenalines, PO Ferries, DFDS, Color Line) who consider motorcycles to be what they are, a bicycle within the meaning of Article R311-1 of the French road law , « A cycle is a vehicle with at least two wheels, propelled solely by the muscular energy of its passengers by means of pedals or cranks. »

Le problème c'est que la compagnie Brittany Ferries a le monopole sur les ports de Roscoff, Saint-Malo, Cherbourg, Caen et Le Havre. Si vous voulez éviter cette surtaxe, il vous faudra passer par Dieppe, Calais ou Dunkerque ce qui vous l'avouerez fait un sacré bout de route supplémentaire à vélo si on veut rallier l'Atlantique en venant d'Angleterre.
The problem is that Brittany Ferries has a monopoly over the ports of Roscoff, Saint-Malo, Cherbourg, Caen and Le Havre. If you want to avoid this surcharge, you will have to pass through Dieppe, Calais or Dunkerque which you admit it makes an additional distance by bike if you want to tour the Atlantic coast coming from England.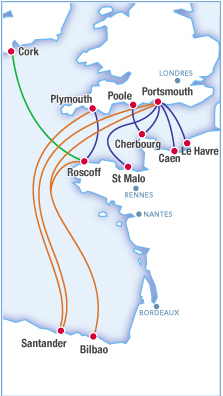 Au moment où cette compagnie avec l'aide de l'argent public se lance dans l'acquisition d'un navire GNL (Gaz Naturel Liquéfié) et la mise aux normes anti-pollution du reste de sa flotte, c'est un peu fort de taxer un véhicule non polluant sous prétexte de ses dimensions qui ne sont en réalité pas tellement supérieures à celle d'un vélo de randonnée équipé de ses sacoches avant et arrière.
Surtout que les comptes de cette compagnie ne seront pas mis à mal par un déferlement massif de vélomobiles en provenance d'Angleterre, puisqu'il y a tout au plus 50 vélomobiles dans ce pays.
By the time this company, with the help of public money, began acquiring a liquefied natural gas (LNG) ship and bringing the rest of its fleet up to pollution standards, To tax a non-polluting vehicle under the pretext of its dimensions which are actually not so much higher than a hiking bike equipped with its front and rear bags.
Especially that the accounts of this company will not be undermined by a massive surge of velomobiles coming from England, since there are at most 50 velomobiles in this country.
Ce serait donc une action positive pour le développement de ce mode de transport moderne et pour la compagnie qui démontrerait là son engagement dans les actions qui permettent de réduire les émissions polluantes.
It would therefore be a positive step for the development of this modern mode of transport and for the company which would demonstrate its commitment to actions that reduce polluting emissions.

En ce début d'année 2017 nous avons réitéré notre demande en proposant même des solutions de compromis ; voyage en période creuse, location d'une cabine.
Mais non la Brittany Ferries ne revient pas sur son principe, assimilation du vélomobile comme une motocyclette étant donné ses dimensions.
At the beginning of 2017 we reiterated our demand by proposing even compromise solutions; Off-peak travel, cabin rental.
But not the Brittany Ferries does not return on its principle, assimilation of the velomobile like a motorcycle given its dimensions.
Bref, si vous souhaitez traverser la manche, voilà des informations qui vous seront utiles.
In short, if you want to cross the Channel, that information will be helpful.