Petit tour en France 2017
Petit tour en France 2017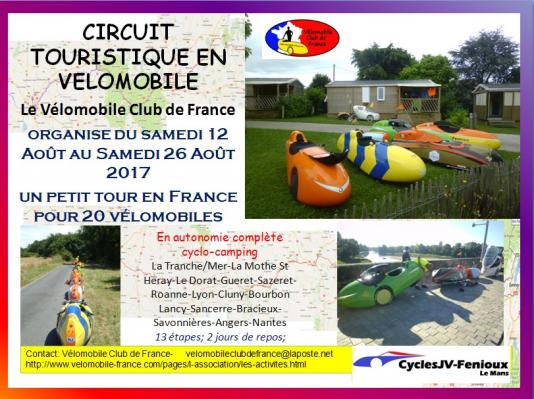 Le Vélomobile Club de France organise un petit tour en France à vélomobile du samedi 12 au
samedi 26 août 2017.
Cette manifestation est une suite de randonnées cyclistes sans but de compétition ni de classement.
Les participants suivent librement les parcours proposés, à leur rythme, et peuvent les adapter en
fonction de leurs préférences.
The Vélomobile Club de France organise a small tour in France with velomobile from Saturday 12 to
Saturday, August 26, 2017.
The event is a series of cycling rides with no purpose of competition and ranking. Participants freely
follow the proposed route, at their own pace and can adapt them according to their preferences.
Vous trouverez tout ce qu'il faut savoir dans le fichier ci-dessous.
you will find everything you need to know in the file below

Reglement tdf 2017

Parcours 2017 (1.75 Mo)
Pour vous inscrire remplissez le fichier et envoyez le à l'adresse indiquée accompagnée de votre règlement.
To register fill out the file and send it to the address indicated with your payment.

Bulletin d incription 1

Bulletin d incription 2017
| N°/Nb | Nom/Name | Vélomobile/Velomobile | Pays/Country | Observations/Comments |
| --- | --- | --- | --- | --- |
| 01 | Denis B. | Quattrovelo | France/Bretagne | |
| 02 | John H. | Quattrovelo | Great Britain | |
| 03 | Eva N. | Quattrovelo | The Netherlands | |
| 04 | Allert J. | Quattrovelo | The Netherlands | |
| 05 | Jean-Luc M. | Strada carb | France/Bretagne | |
| 06 | Claudine J. | Leiba classic + Trailor | France/Charentes | |
| 07 | Christian C. | Waw + Trailor | France/Oise | |
| 08 | Franck G. | Quest carb+Trailor | France/Normandie | |
| 09 | Marie-Liesse G | Quest XS Carb | France/Normandie | |
| 10 | Pascale B. | Quest XS Carb | France/Bretagne | |
| 11 | Laure W. | Mango sport | France/Aquitaine | |
| 12 | | | | |
| 13 | | | | |
| 14 | | | | |
| 15 | | | | |
| | | | | |
| | | | | |
| | | | | |
| | | | | |
| | | | | |